Monochromatic fiber-coupled LED light sources
for many different wavelengths
LED light sources for 20+ single wavelengths
Wavelength range from UV to NIR
Resource-saving through "Green Efficiency"
Monochromatic fiber-coupled LED light sources
Narrow bandwidth, high luminance: The LS-MC1
For many applications in the field of machine vision, fluorescent microscopy and nano-photonics light sources are needed that deliver a narrow-band, monochromatic spectrum.
LED light sources in the LS-MC1 series provide a constantly growing selection – currently amounting to over 20 – of narrow band single wavelength LEDs with a bandwidth of 15-50 nm FWHM, allowing precise work in a defined wavelength range. As a result of optimized optical coupling into the optical fiber – as with all of our light sources – with our LS-MC1 series we have achieved the highest possible luminance. The advantage of directly emitting monochromatic LEDs is their very high level of efficiency, because the entire radiated output is in the useful wavelength range.
For physical reasons, there are currently gaps in the green-yellow spectral range with directly emitting LEDs. LEDs with converter phosphors such as our LS-WL1 or LS-BB1 are helpful in this regard.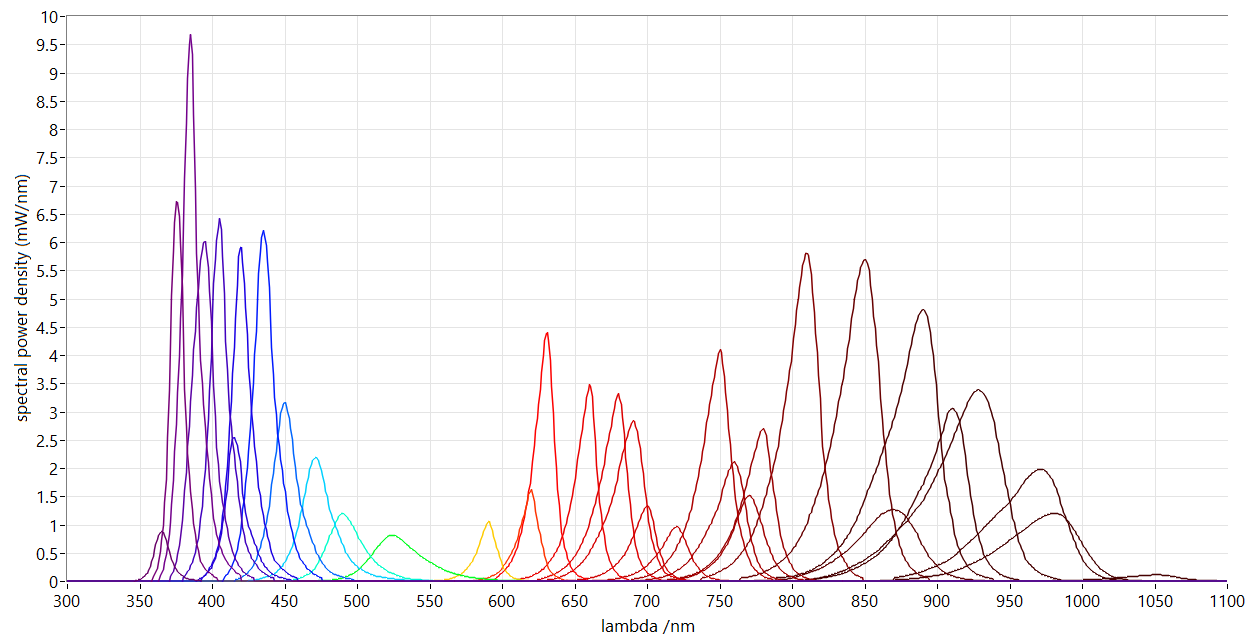 The LS-MC1 series supports many different wavelengths. For details please refer to the table in data sheet. Is your desired wavelength missing? Please contact us! If required, further narrowing of the spectral bandwidth through a small band-pass filter is possible.
We look forward to your enquiry.
Call us on:
+49 (0) 551/270765-0
Or by email at:
info@lightsource.tech
Up to 30-200 mW from 1 mm fiber, according to wavelength
For Ø 50 µm – 1 mm multimode fibers
SMA optical fiber output (other available on request)
20+ wavelengths available, see table
(measurement protocol available, wavelength selection available on request)¹
RS232 (COM-Port) via USB (type Mini-B)
TTL, to 100 kHz, SMA connector
Signal/current monitor or sync interface to additional light sources, SMA connector
Input/output options for functions tailored to customer requirements
12 V DC, 2.5 A, power consumption approx. 20 W (@100% performance)
125 x 110 x 60 mm³, 450 g
30 – 200 mW (from 1 mm fiber), see table
1 The nominal wavelength can typically deviate by several nm from the peak wavelength. A more precise wavelength selection is usually possible. Please contact us in such case.
The LS-MC1 series
The right single wavelength for every need
Every LED light source in the LS-MC1 series offers extremely high luminance in a specific single wavelength range. This, along with its high output power, flexible handling and long lifetime make it a highly efficient and resource-saving point light source.
Narrow band LED light sources with SMA optical fiber output
Green efficiency: energy-saving through its high useful light output power
Over 20 single wavelengths available
Extremely high luminance
Simple control via USB
Extremely long lifetime (min. 10,000 hours)
30 to 200 mW light output

Intelligent light solutions for industry and research
We look forward to your enquiry and will get back to you within 24 hours!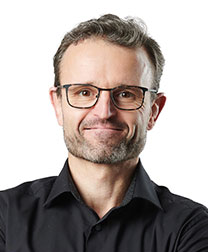 Dr. Dirk Hönig
lightsource.tech
Our highLight: Highest efficiency along with lowest energy use
LED light sources in the LS-MC1 series offer extremely high luminance and very long lifetime, making them an environmentally friendly substitute for Xe and Hg light sources.
They deliver precisely the wavelength you need for your application, without having to filter out false light. This "green efficiency" makes the LS-MC1 a highly efficient and resource-saving light source.
Technical data sheet for LS-MC1
Monochromatic LED light source
 new   High Power White Light LED light sources
High Power light sources for Liquid Light Guide
High CRI of >90
Long lifetime, 40,000 hours
 new   Monochromatic High Power LED light sources
High Power light sources for Liquid Light Guide
8 single wavelengths from 365 to 850nm
Long lifetime, 40,000 hours
LS-BB1
broadband LED light source
Wavelength range from VIS to NIR
Alternative to halogen light sources
For professional spectroscopic applications
Homogenizer Low-loss
broadband homogenization
Deviations of only ± 2 %
Transmission of more than 50 %
Wavelength range from 200/350 nm to 2000 nm
The LS-MC1 series uses monochromatic
high-powered LEDs in many different wavelengths
from UV to NIR NIR | lightsource.tech