Monochromatic High Power LED light sources
High Power light sources for Liquid Light Guide
8 single wavelengths from 365 to 850nm
Long lifetime, 40,000 hours
Single wavelength fiber-coupled LED light sources
Narrow bandwidth, high luminance: The LS-HP1
For many applications in the field of machine vision, fluorescent microscopy and forensics light sources are needed that deliver a narrow-band, monochromatic spectrum.
The LS-HP1 is a series of high-power, high brightness light sources for liquid light guides (LLG). It is characterized by its outstanding luminance and thus delivers very high light output from liquid light guides. The LS-HP1 works with the latest generation of high-power LEDs with up to 100W power from an area of less than 15mm². With the LS-HP1 series, we achieve the highest luminance levels through optimized optical coupling into the liquid light guide without heating it up too much. The LS-HP1 is available for liquid light guides with core diameters of 3 or 5mm.
Up to 9,7W from 5mm Liquid Light Guide

Version for 3mm and 5mm liquid light guide available
RS232 (COM-Port) via USB (type B)
TTL-level trigger or digital modulation via SMA connection
Selectable output signals via SMA connection; signal reference (TTL), current monitor or input signal looped through
External power supply 24V DC, 9.0A (included), connection: Kycon KPJX-4S, power consumption approx. 150W max. at 100% (depending on the selected LED)
254mm (L) x 200mm (W) x 120mm (H) without user controls and connections, 2350g
Up to 9,7W from 5mm LLG, see table
The LS-HP1 series
Our strongest, most powerful light source
The LED light source in the LS-HP1 series offers extremely high power for a specific single wavelength. This, along with its high luminance and its very long lifetime, make it a highly efficient and powerful point light source.
Up to 9,7W output
More than 8 single wavelengths available
Extremely high power
Simple control via software interface
Extremely long lifetime (min. 40,000 hours)

Intelligent light solutions for industry and research
We look forward to your enquiry and will get back to you within 24 hours!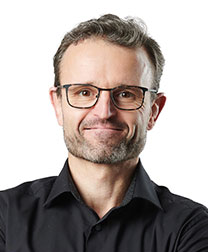 Dr. Dirk Hönig lightsource.tech
Our HighLight: Extremly high power from Liquid Light Guide (LLG)
The LS-HP1 works with the latest generation of high-power LEDs with up to 100W power from an area of less than 15mm². Due to the resulting high luminance it is possible to insert a lot of light into a liquid light guide. The spectral power density of the LS-HP1 exceeds that of a conventional halogen lamp by a multiple.
Technical data sheet for LS-HP1
High power LED light source
LS-WL1 flexible high-brightness point light
Flexible point light with extremely high luminance
Light coupling with multimode fibers of 50 µm – 1 mm core diameter
Stroboscope and trigger mode up to 200 kHz
LS-HP1 white light version
High Power light sources for Liquid Light Guide
High CRI of >90
Long lifetime, 40,000 hours
The LS-HP1 series uses monochromatic and white light high-powered LEDs | lightsource.tech