Demo system of our laser-pumped white light source
Order Try-Out Box now:
Our try-out box for the LS-WL1 laser-pumped high-brightness light source contains a series of prepared experiments with which you can get to know the functions of the LS-WL1.
In addition to basic optical functions such as collimation or focusing, the stroboscope and trigger functions in particular are also tried out using demonstration experiments.
Please be sure to observe the safety instructions in the enclosed safety sheet for all experiments.
The individual experiments are also presented here in the form of short videos. Most of the functions presented here apply analogously to the other light sources of the LS series.
Laser pumped white light source as
Try-Out-Box – Order now!
Download the Try-Out Box manual:
Starting Up: the LS-WL1 is put into operation, and basic functions and controls are explained. Afterwards the breadboard for the experiments is built up.
2. collimator: because the LS-WL1 is a point light source, the light can be focused very well and thus a high luminance can be generated even at great distances. These relationships are also explained in a whitepaper. > To the whitepaper
3. focusing: not only bundling, but also focusing the light of the LS-WL1 can be very good. Here you can achieve extreme luminance levels!
4. homogenizers: lightsource.tech offers different variants of homogenizers based on microlens arrays that allow extremely uniform illumination of a square observation field. This is especially advantageous for machine vision or metrology. In this experiment you will get to know our standard homogenizer.
5. stroboscopic mode: with stroboscopic illumination, fast movement processes can be virtually "frozen". This makes fascinating observations possible. In this experiment, a small optical chopper serves as a demonstration object. A fan or an electric toothbrush are also exciting experimental objects.
6. pulse trigger mode: in this experiment we extend the stroboscope setup by an optical photoelectric cell which provides a trigger signal. This allows us to synchronize light pulses with the optical chopper disk. This mode is particularly powerful e.g. in connection with cameras or spectrometers.

Do you have questions about the individual experiments or functions of the LS-WL1?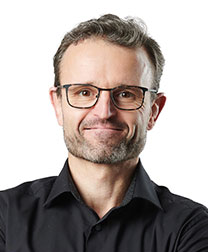 Dr. Dirk Hönig
lightsource.tech