Monochromator-H: Tunable light source 340 – 2000nm
Small and compact, fits in any lab
Cost effective solution for medium power applications
Ideal for spectroscopy and sensor testing
Monochromator-H: Tunable light source 340 – 2000nm
Small and compact, fits in any lab
Cost effective solution for medium power applications
Ideal for spectroscopy and sensor testing
A compact tunable light source with medium output power
The Monochromator-F with integrated halogen lamp
Halogen lamps seem obsolete at first glance. However, they are still an excellent choice for many technical applications that require a continuous spectrum in the visual and near-infrared wavelength range.
We have combined our proven Monochromator-F with a halogen lamp to realize a compact tunable light source for the wavelength range 340 – 2000nm, the Monochromator-H. The very smooth and consistent spectrum of a halogen lamp makes it the ideal solution when monochromatic light with a freely selectable wavelength in the UV, VIS and NIR is needed.
We look forward to your inquiry at:
+49 (0) 551/270765-0
or via e-mail at:
info@lightsource.tech
Up to 650 µW at half-width 52nm

Halogen lamp efficiently integrated
Technical data sheet for the Monochromator-H
Monochromator with integrated halogen lamp
SMA connectors for multimode fibers (Ø 200 – 1000 µm)
f/2.7 (for fiber with NA=0.22)
Selectable slit widths: open, 1000µm, 600µm, 400µm, 300µm, 200µm
50 x 50 mm² (various gratings available)
up to 5 pieces, ½ inch,
Standard set included (3 filters for UV-VIS-NIR)
Software with GUI included
USB/RS-232, LabVIEW™, DLL
291 x 270 x 124 mm³, 4 kg
*depending on fiber diameter and grating
Monochromator-H – with integrated halogen lamp and large spectrum from UV to NIR
The Monochromator-H is a compact tunable light source for multimode fibers. Monochromatic light of an adjustable wavelength is isolated from the light of a broadband halogen lamp using a grating monochromator.
The light from the halogen lamp is focused directly on the input slit and thus optimally used to achieve the highest possible output power over the entire spectrum from 340 to 2000 nm.
The decoupling via multimode fibers allows easy integration into your system setup.
Wavelengths are selected via USB using supplied software or via LabVIEW, DLL or RS-232.
Tunable wavelength range from 340 to 2000 nm (UV to NIR)
Flexible tunable point light source
Bandwidths from 3 nm to 52 nm
Very uniform output power curve over the wavelength
Software included, controllable via LabVIEW, DLL (via RS-232)
Optional high-speed shutter with switching times up to 10 ms
Wide range of optical gratings available
Power spectrum of the Monochromator-H

Quotation for your tunable light source
We will get back to you with a proposal within 24 hours!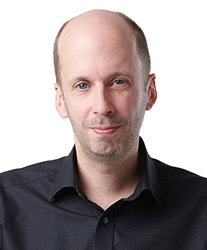 Dr. Jan Thirase
lightsource.tech
Wavelength range: Approximate wavelength range in which you can select the wavelength of the monochromatic light.
Half-width: Bandwidth of the monochromatic light
Optical output: Optical fiber you want to use at the output. If you are not sure how your output should look like, leave this field blank
Optical Power: The approximate optical power in microwatts per nanometer you need at the output. You can also leave this field blank
Specification of your tunable light source:
Monochromator-F
Fiber-to-Fiber-Monochromator
Wavelength range from 190 nm – 5.5 µm
Uncomplicated grating change
Half-widths from 0.7 to 28 nm
Hyperchromator
for the XWS-30 from ISTEQ
All wavelengths from DUV to NIR
Designed for the laser pumped light source XWS-30 from ISTEQ
Especially suitable for DUV and UV applications
The homogenizer
low-loss and broadband homogenization
Deviations of only ± 2
Square light field
Wavelength range from 200/350 nm to 2000 nm
Competence in the best light.
High luminance for
industry and research
from lightsource.tech