Monochromator for laser pumped
Plasma light source
Especially suited for DUV and UV
Motorized dual grating changer
Total wavelength range from DUV to NIR
A monochromator for the laser-pumped light source XWS-30 from ISTEQ
The Hyperchromator and the XWS-30: A high-performance team
In order to achieve the best results, a monochromator requires a powerful light source that covers a large spectrum. The laser-pumped XWS-30 light source from the ISTEQ company in Eindhoven (Netherlands) fulfils these demands with extremely high luminance and a wavelength range from 190 bis 2200 nm, making it also the most suitable choice for generating monochromatic light in the DUV and UV range.
We have jointly developed the Hyperchromator together with our partner Mountain Photonics (Landsberg am Lech, Germany) especially for the XWS-30. In doing so have created a tunable light source that uses the high luminance and the large wavelength range of the laser-pumped light source optimally for the isolation of narrow bandwidth. The motorized dual grating changer of the Hyperchromator and control via a USB interface make work with the Hyperchromator simple and uncomplicated.
The Hyperchromator is exclusively distributed by Mountain Photonics and their worldwide partner network. We at lightsource.tech will be happy to answer your technical questions and forward your inquiry. Or you may consider contacting Mountain Photonics directly.
We look forward to your enquiry.
Call us on:
+49 (0) 551/270765-0
Or by email at:
info@lightsource.tech
Up to 800 µW at Half-power width 6nm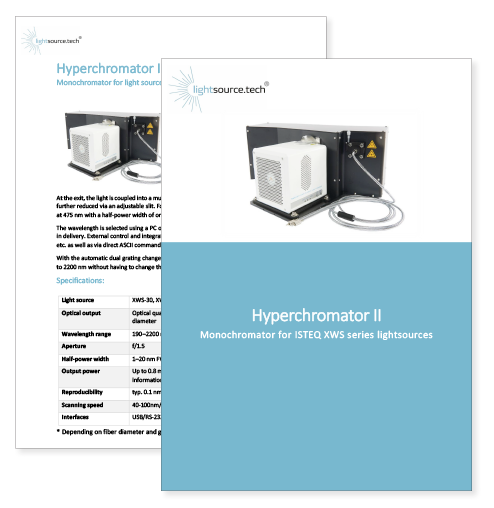 Technical data sheet Hyperchromator II
Monochromator for ISTEQ XWS series lightsources
XWS-30 from ISTEQ directly built-on (other light sources from ISTEQ also available)
Optical quartz fibers, SMA or FC, 100 – 400 µm core diameter
Typically 60 – 800 µW, corresponding to 10 – 130 µW/nm *
USB/RS-232, LabVIEW™, DLL
* depending on fiber diameter and gratings
We are happy to help you
with any questions!
Michael Rotschädl
Are you interested in this product?
Sales are through our reliable partner Mountain Photonics.
Feel free to ask us!
Hyperchromator – Special monochromator for the XWS-30
from ISTEQ with a large spectrum from DUV to NIR
The Hyperchromator is a monochromator that has been specially developed for the laser-pumped light source XWS-30 from ISTEQ. Optimization for your application is achieved by selecting suitable optical gratings. Thanks to the dual grating changer, you can cover the entire wavelength range available.
The monochromator uses the light very efficiently in order to deliver high output power over the entire spectrum from 190 bis 2200 nm.
The Hyperchromator does not require an additional entrance slit. It absorbs the light of the XWS-30 loss-free via an opening of up to f/1.5 directly from the plasma of the light source.
Decoupling via multimode fibers allows easy integration into your system assembly.
Selection of the wavelength takes place via USB using the software provided or via LabVIEW DLL or RS-232.
Tunable wavelength range from 190 to 2200 nm (DUV to NIR)
Powerful in the DUV and UV range
High performance and luminance from a multimode optical fiber
Automatic dual grating changer
Including software, compatible with LabVIEW, DLL (via RS-232)
Bandwidths from 1 nm to 20 nm
Decoupling via multimode fiber
Optional: power and wavelength monitoring parallel to the optical output
Optional: Installation of other ISTEQ light sources or existing Energetiq EQ-99X lamps
Wide range of optical gratings available
Hyperchromator output spectrum:

Example of configuration
Our highLight: The "plasma entrance slit"
With conventional monochromators, the light from the light source is first mapped onto an entrance slit. However, this results in a high loss of light – especially in the DUV and UV range.
On the other hand, our hyperchromator uses the very small and very bright laser-pumped plasma of the XWS-30 directly as an "entrance slit" and thereby significantly reduces the loss of light.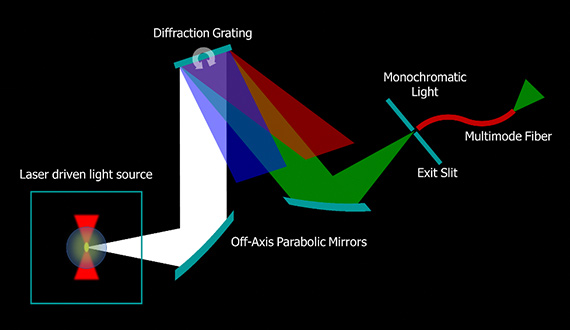 Homogenizer
low-loss and broadband homogenization
Deviations of only ± 2 %
Square illuminated field
Wavelength range from 200/350 nm to 2000 nm
Competence in the best light.
High luminance
for industry and research
from lightsource.tech