Programmable laser-pumped white light source for numerous uses in measurement and observation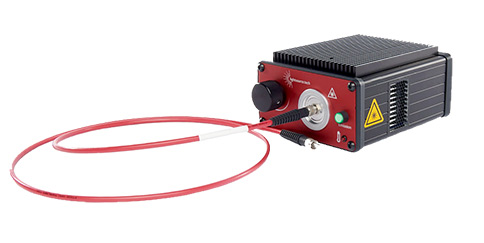 Flexible point light with extremely high luminance
Light coupling with multimode fibers of 50 µm – 1 mm core diameter
Stroboscope and trigger mode up to 200 kHz
Laser-pumped white light source
A highly efficient and extremely bright point light source: LS-WL1
Our LS-WL1 is a laser-pumped white light source with a light output of up to 440 mW from a 600-µm fiber and a wavelength range of 450 – 700 nm, designed especially for professional requirements for extremely high luminance.
Compact size and a balanced light spectrum make the LS-WL1 a flexible, brilliant point light source. The highly efficient optical coupling is suitable for multimode fibers of 50 µm – 1 mm and an NA of up to 0.5.
We look forward to your enquiry. Call us on:
+49 (0) 0551/270765-0
Or by email at:
info@lightsource.tech

Laser-pumped
converter phosphor 
RS232 (COM port) via USB (type Mini-B)
TTL, to 200 kHz, SMA connector
Signal/current monitor or sync interface to additional light sources, SMA connector.
Input/output options for functions tailored to customer requirements
12 V DC, 2.5 A, power consumption approx. 20 W (@100% power)
125 x 110 x 60 mm³, 450 g
Adjustable 1-100%, 440 mW from 600 µm fiber (NA 0.5)
Dual high-performance fans, integrated temperature sensor (readable), automatic power down at a programmable temperature limit (standard configuration: 10 – 30°)
High-power white light from optical fibers with a small diameter
Up to 100 times higher luminance than white light LEDs
Optimized optics for coupling into multimode fibers (Ø 50 µm – 1 mm)
Stroboscope / trigger up to 200 kHz
10,000 hours lifetime through highly efficient cooling
Control via USB and RS-232
Get to know our product with the 
Try Out Box:
Fiber-coupled light source with high luminance
Pre-prepared experiments to familiarize yourself with the optical and electronic characteristics
Homogenizer, collimator, stroboscope, trigger

Intelligent light solutions for industry and research
We look forward to your enquiry and will get back to you within 24 hours!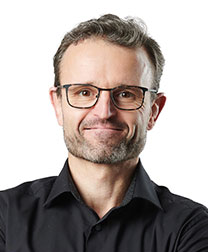 Dr. Dirk Hönig
lightsource.tech
Laser-pumped white light source LS-WL1
Powerful point light for multimode fibers
The LS-WL1 laser-pumped white light source generates an extremely bright point light through two blue laser diodes with an output of up to 16 W focused on a ceramic phosphor converter.
The lasers are integrated on one chip with the converter (system on chip). This results in a construction design that is very compact and stable.
The highly efficient optics of the LS-WL1 allows the luminescence emitted by the converter to be coupled into multimode fibers with a diameter of 50 µm to 1 mm. The user receives a flexible point light source with extreme luminance. In terms of light throughput and luminance, the optimum fiber diameter is approximately 600 µm.
The LS-WL1 can achieve switching frequencies of up to 200 kHz via the trigger input. The pulse width and delay are programmable – ideal for synchronization with cameras or sensors. Through its integrated frequency generator, the laser-pumped white light source becomes a high-frequency stroboscope.
The signal output of the LS-WL1 can be used as an input for additional LS-WL1 devices, which, for example, allows light to be staggered from different directions.
The LS series (LS-WL1, LS-MC1, LS-BB1) of compact light sources is operated via a USB/RS-232 interface and programmed via simple ASCII commands. This allows easy integration into any programming environment of choice. The delivery scope includes a comfortable GUI for controlling of several LS-WL1 devices.
We look forward to your enquiry. Call us on:
+49 (0) 0551/270765-0
Or by email at:
info@lightsource.tech
Our HighLight: Laser-pumped converter phosphor 
The extremely high luminance of the LS-WL1 comes about through two powerful laser diodes that pump a stable ceramic phosphor converter with high co-efficiency.
Due to its system-on-chip technology (SoC) for laser and converter, the LS-WL1 has been kept very compact and can be easily integrated as a laser-pumped white light source into existing overall systems.
Technical data sheet for 
Laser-pumped

white light source with high luminance
Monochromator-F for
fiber-coupled light sources
Software controlled fiber-to-fiber monochromator
High light throughput
Flexible, tunable point light sources
Monochromatic, fiber-coupled
LED light sources
LED light sources for 20+ individual wavelengths
Wave length range from UV to NIR
Resource saving with "Green Efficiency"
Homogenizer
low-loss and broadband homogenization
Deviations of only ± 2 %
Transmission of over 50%
Wavelength range from 200/350 nm to 2000 nm
Flexible high brightness
Point light: Die LS-WL1
Enquire now!